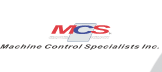 MCS Control Products
MCS manufactures two major computerized control products. The lower cost MCS2 is an embedded type motion control that uses an LCD display and keypad. It is capable of controlling from one to four axes and therefore is well suited for all benchtop winders to medium performance machines.
Our high end PC based MCS6 control can handle any machine up to 16 axes. Using the graphical user interface features of Windows 7 and our CoilPro software, the MCS6 control is the highest performance easiest to use control in the industry.
In addition to our computerized controls we also carry a complete line of counters, encoders, motors and motor controls of all types.
Motors – Stepper, Brushed and Brushless

Motor Controls – Bipolar Stepper, Microstepper, SCR, DC PWM Brushed and Brushless
---
Machine Control Specialists, Inc.
35 N Garden Avenue
Roselle, IL 60172-1742
Voice: 630-980-3200 Fax: 630-980-3249
Web: www.mcsinc.com Email: info@mcsinc.com
Last Update: July 20, 2017