Model 307 Stick Winder
with programmable paper feed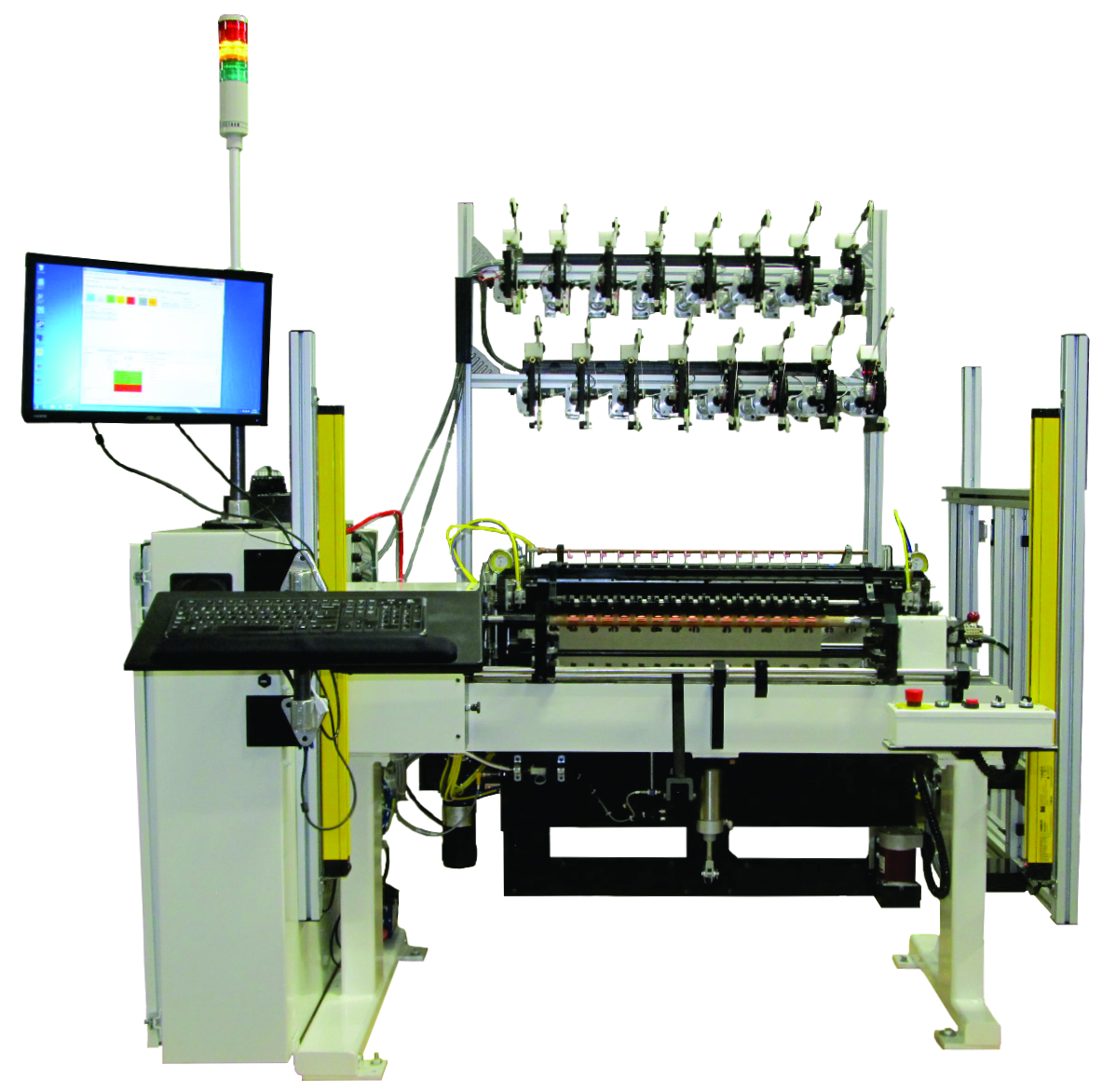 Features

The Model 307 is our new fully programmable stick winder with automatic paper feed
Includes 'CoilPro' multi-media based MCS6 control
Use Video, Graphics and Audio to train operators
Servo Motor spindle and Traverse Axis
Servo Motor Paper Feed and Shelf Position
Conversions available for Leesona 107 Machines
On-Line Setup, diagnostic and maintenance manual
ISO9000 Documentation control with security
High speed spindle
Adjustable feed rate handles 1MIL paper
Programmable shelf height
Programmable feed length
Display operator messages
On-Line audio and video operator instructions
Feed precisely synchronized to spindle
Description
The Model 307 stick winder is a newly designed machine for winding paper section coils. Its design is based on the popular Model 107 with many improvements. The most significant being the use of modern CNC controls. The use of servomotors has eliminated all of the cams and linkages that were used to operate the automatic paper feed system.
The machine is designed to wind all types of paper section multiple stick wound coils. The quantity of coils can range from 6 to 52 per stick. The length of a stick can vary from approximately 22 to 38 inches. These coils are typically wound side by side on a common paper tube. The coils have alternate layers of wire and paper. The paper is fed automatically on the fly as each layer of wire is complete.
The spindle is driven by a brushless servomotor. The motor is coupled to the spindle by a belt and pulley set. Mounted on the spindle is an electromagnetic brake that is used to hold the spindle in position when the motor stops. An encoder is mounted on the spindle to give position information. It is used for calculation of turns in .01 increments and to provide data for traverse pitch calculation.
A linear traverse system moves a wire guide bar that guides multiple wires. A brushless servomotor drives the traverse through a zero backlash lead screw. The traverse can be freely programmed to move to any position. During winding the traverse pitch rate is precisely synchronized to the rotation of the spindles and can be changed any number of times. Pitch rate is calculated to .000001 inch accuracy.
The machine runs two programs, one to control the spindle and traverse for winding the coil. The other program is used to control all of the paper feed motions. The winding program is synchronized to the paper feed at each occurrence of the traverse direction change at the end of a layer.
The paper feed system is fully automatic and operates under computer control. Brushless servomotors are used for the paper measure and feed shelf positioning. Microstepping stepper motors are used to raise the complete paper feeder and to fire the paper into the coil. The paper feed program can sequentially increase the length of paper as the coil size increases. The complete paper feeder can be positioned to achieve the best angle for paper insertion.
The machine is easily programmed using our CoilPro software. Using the graphical user interface of Microsoft Windows, all parameters for the coil are entered in a program builder screen. Parameters for wire diameter or pitch, number of turns, length of layer, length of paper, feed shelf position, wind speed etc. are easily entered.
The multi-media and job folder features of CoilPro also allow production and process information to be entered. The program may include material information, drawings, instructions etc. The instructions can include text, audio, pictures, and videos to train the operator and insure quality.
---

Machine Control Specialists, Inc.
35 N Garden Avenue
Roselle, IL 60172-1742
Voice: 630-980-3200 Fax: 630-980-3249
Email: info@mcsinc.com
Last Update: July 19, 2017