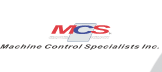 LVDT Winding Machines
For Aerospace & Industrial Position Sensor Coils.
Specializing in multiaxis dual traverse machines.
High Precision Linear Variable Displacement Transducers can be wound with our dual traverse LVDT coil winders. Simultaneously wound secondaries can have have same or different slopes. Touch Off feature finds flange and calculates start point. Closed Loop Payoff Tensioners add to precision and quality.
Machine Control Specialists, Inc.
35 N Garden Avenue
Roselle, IL 60172-1742
Voice: 630-980-3200 Fax: 630-980-3249
Web: www.mcsinc.com Email: info@mcsinc.com
Last Update: October 10, 2017