Model 105 Precision Medical Coil Winder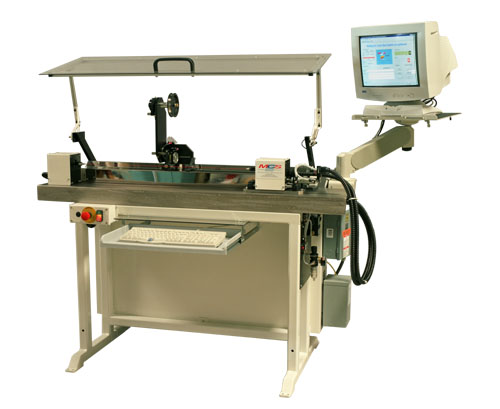 The new specially designed series of machines are capable of "mandrel" winding catheters, guidewires and other precision medical coils. Typical coils have .001-.025 inch (.025-.630mm) diameter medical grade stainless steel wire wound over an .001-.188 inch (.025-4.75mm) diameter mandrel. The machines rotate a long mandrel wire between two synchronized spindles while a special nozzle guides the wire. A programmable closed loop tensioner is used to precisely control winding tension. Pitch is calculated to .000001 inch (.0001mm) accuracy and can be changed in .01 revolution of the mandrel. The machine is available in 12, 24, 36 inch (300, 600, 900mm) versions.
See also the long version Model 105L, it is available in 48, 60, 72, 84, 96, 108, 120 inch (1200, 1500, 1800, 2100, 2400mm) manual or fully automatic versions.
Call today

for more information, literature and pricing.
---

Machine Control Specialists, Inc.
35 N Garden Avenue
Roselle, IL 60172-1742
Voice: 630-980-3200 Fax: 630-980-3249
Web: www.mcsinc.com Email: info@mcsinc.com
Last Update: July 25, 2017