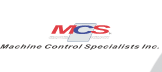 Model 105-8A Multi-filar Medical Winding Machine with bi-directional angle control
The Model 105-8A mandrel winding machine lays multiple filars on a mandrel with the proper pitch and helix angle. The Closed Loop Pay Off Tension system maintains accurate tension on all filars. Layering direction can bi-directional while maintaining proper orientation of filars.
Call today

for more information, literature and pricing.
---

Machine Control Specialists, Inc.
35 N Garden Avenue
Roselle, IL 60172-1742
Voice: 630-980-3200 Fax: 630-980-3249
Web: www.mcsinc.com Email: info@mcsinc.com
Last Update: July 19, 2017