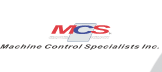 Model 134 - Plumbing Solder Respooler


Specially designed machine to wind heavy (.118 / 3mm) plumbing solder. Semi-automatic operation requires an operator to simply load a spool. The machine automatically feeds the wire in a hole in the spool, then winds correct number of turns for required weight. The cycle finishes by cutting the wire and ejecting the spool. Accurate turn count assures proper weight.
Fully automatic versions are available.
Call today

for more information, literature and pricing.
---

Machine Control Specialists, Inc.
35 N Garden Avenue
Roselle, IL 60172-1742
Voice: 630-980-3200 Fax: 630-980-3249
Web: www.mcsinc.com Email: info@mcsinc.com
Last Update: September 05, 2018